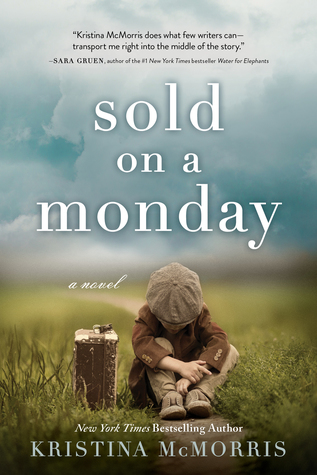 Title: Sold on a Monday
Author: Kristina McMorris
Publisher: Sourcebooks
Publication Date: August 28, 2018
Genre: 20th Century Fiction, Historical Fiction
I have to admit that my favourite period in history has got to be 1900-1950s. Unfortunately, I hardly read about them except when reading about the atrocities of World War II, I decided to remedy that by picking up Kristina McMorris' Sold on a Monday.
The 1930s were characterised by prohibition, bank runs, breadlines and impossible choices, Desperation led a parent to scrawl the sign "2 Children for Sale". Struggling reporter, Ellis Reed captures a picture of this sign not meant for publication because the image reminded him of his own childhood. Co-worker Lillian "Lilly" Palmer resonates with the picture and sees its potential for something greater. However, the image leads to unintended consequences that change their future.
Sold on a Monday has the makings of the next bestseller. As the blurb at the back of the book states, "This touching novel explores the tale within the frame and behind the lens-a journey of ambition, love and the far-reaching effects of our actions." Knowing that this book was inspired by an actual newspaper photo, the story tugged at my heartstrings, even more.  It is clear that McMorris went all out researching because I was immediately transported to 1930s New York and Philadelphia. Readers will be able to empathise with Ellis and Lilly's ambitions to make something of themselves with the odds stacked against them.
Sold on a Monday will be great for readers who love family dramas, stories from the Great Depression and mobsters.
Note: I am grateful to NetGalley and SourceBooks for the e-ARC. All opinions expressed are my own.