The other day I listened to entrepreneur Myleik Teele talking about ending 2017 strong. She highlights a number of things that you can do set up your career for success in 2018 including setting mini-goals(and subsequent plan) on how to turn your current work situations around.
Planning and goal setting can be daunting especially when tackling some work opportunities like effectively managing projects or nail important presentations can give you the hives. So to give you an extra boost, after listening to Myleik's podcast here, you might want to pick up some of the interesting books that I have read in the past year
Better than Before: Mastering the Habits of Our Everyday Lives By Gretchen Rubin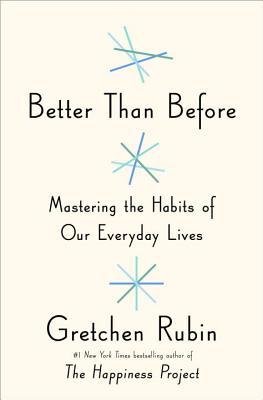 Why you need it:  To master good (work) habits and self-discipline.
In this book, Ms Rubin reminds the reader that every action, every habit has its consequences, so why not take the time to develop beneficial ones. By referencing research, various authors (present-day and of old) she lays the foundation for her four tendencies model and how these affect the way that people handle responsibilities, the arguments that we use in self-talk and working around them.
Based on this book, I discovered that I was an Obliger- readily meeting outer expectations like helping a colleague tackle a project while struggling with inner expectations like going to the gym or quitting caffeine. This has helped me to evaluate the projects that I take on and ensure that I am able to strike a balance is to achieve private and communal goals.
Hopefully, this Forbes article will pique your interest.
Give and Take: Why Helping Others Drives Our Success by Adam Grant
Why you need it: To remind yourself you can balance teamwork with personal goals
I do not think that I can rave about this book enough this year.  I have heard a lot about Prof. Grant from the interwebs but I am glad that I finally did. Based on his own research and various case studies, Grant provides evidence on how effective networking, collaboration, influence, negotiation, and leadership skills can help you get ahead in the work.  It was insightful to learn how we could have anticipated Enron's demise four years before the company collapsed – without ever looking at a single number.
Give and Take emphasises that the good guys and girls can also win in their careers and businesses when they are able to balance offering and accepting help.
Deep Work: Rules for Focused Success in a Distracted World By Cal Newport
Why you need it: To increase your productivity and the strength to embrace digital minimalism
Deep work is the ability to focus without distraction on a cognitively demanding task. It's a skill that allows you to quickly master complicated information and produce better results in less time. Having followed Prof Newport's work for a while, I  am familiar with his strong advocacy for digital minimalism through his blog Study Hacks– which is quite ironic since he is a theoretical computer scientist. Nonetheless, I have attempted social detoxes in the recent and enjoyed the benefits of being offline for specific periods of time, which I have talked about here.
Reach Out: The Simple Strategy You Need to Expand Your Network and Increase Your Influence By Molly Beck
Why you need it: To up your networking game
If you are like me and you have read an insatiable number of articles and books but still have not got the hang of this networking thing, then Molly Beck's Reach Out is the book for you. In a similar style to her blog, Smart Pretty and Awkward, Molly helps readers to navigate this much required but subversive skill without being sleazy. You can read my full review here.
The Glass Wall: Success strategies for women at work – and businesses that mean business By  Sue Unerman and Kathryn Jacob
Why you need it: To have an updated better grasp of cultural issues that could hinder women in the workplace
The authors argue that cracks in the glass ceiling are becoming more apparent with the increased legal frameworks that have put in place to increase women representation and increase their salaries. They argue that the glass wall erected by socio-cultural issues that hinder them from progressing further. Unerman and Jacob do a brilliant job of addressing some of the issues that women face in the workplace like dealing anger, harnessing your creativity from both the employee and manager perspectives.
You can read my full review here
A non-fiction book in your field (or of your choice)
All the above books will not matter if you do not continually develop your expertise. It is important to increase your knowledge in the subject matter. Yes, blog posts and trade magazines are important but sometimes, picking a book that provides in-depth information may give you a leg up at your next meeting or networking event.
If you would like to recommend a title has changed your career outlook, please do not hesitate to share…
You might also like :
Top photo by Estée Janssens on Unsplash and book covers from Goodreads.
Updated in July 2020