In line with my word for 2016: mature, I would like to enrich my professional knowledge so that I am able to explain academic jargon to  a diverse audience.  In my line of work, words like "sustainable" "good governance" "development" "climate change" "green economy"… have been misused and misconstrued that their weight is slowly quickly being eroded.  Moreover, I don't want to be that girl who solely quotes one  book or author  while making lacklustre arguments. (A little vanity every once in a while, doesn't harm anyone.)  I also hope to get  bonus  points for reading  my own damn books with the hope of saving a bit of cash as well.  Without much further ado, here is my list:
Bad Samaritans by Ha-Joon Chang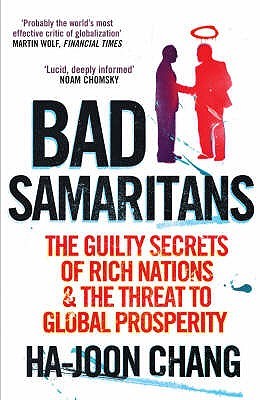 I came across  Chang's work in  graduate school after reading combing through the infamous debate  between him and Justin Lin  for a IMF, World Bank and Economic Growth class.  Believe me it was not funny  trying to digest all their arguments for an  exam! Nonetheless, I was so intrigued by his arguments against mainstream economics that I want to explore more of his work.  Bad Samaritans  explores the othter side of foreign aid. Though, I absolutely hate the cover of my edition (and I am inclined to think that the publishers intentionally made it hideous), I will brace myself and study  because I  enjoy his accesible way of writing.
Available: After much struggle and footwork  in the unforgiving Equatorial sun, I finally got a copy at Nakumatt Lifestyle, Nairobi.
Economics: A User's Guide by Ha-Joon Chang
Last year, I realised that I have taken for granted so many Economic concepts and I would like a refresher course.  As stated above, Chang's work is reknown for being accessible and he does a great job of injecting wit into rather serious matters. He presents economic theories from varius schools of thoughts highlighting both their strengths and weakenesses.
Available here: Text Book Centre
Common Wealth: Economics for a Crowded Plant  by Jeffrey Sachs
Prof. Sachs is known for radical approaches to development such as shock therapy, the big push and the millennium villages project as detailed in Nina Munk's The Idealist.I am intrigued by his latest ideas on sustainable development especially when everyone is focused on  creating  green economies and sustainability. In  any case, I feel it's part of my "daughterly" duties to read  more Sachs' work since my father loves his work. (Yes Dad, I will be reading your copy!)
Other People's Money: The Real Business of Finance by John Kay
From the  Goodreads blurb,  I could tell this book is right  up my alley because it  deals with the current finanicalisation phenomena and was also part of my dissertation . By reading this book, I  hope to get a better understanding of the current happenings in China and probably gain a better perspective into current market volatility tha t is associated with financialisation.
57 Ways to Screw Up in Grad School: Perverse Professional Lessons for Graduate Student by Kevin D. Haggerty and Aaron Doyle
Yes, adding PhD to my name is  something that I am quite eager to  stike off my  bucket list. However, I would like to do it right and  just because  everybody is  doing it. Reading The Professor is in was  eye-opening and  I am going to be intentional about it. So I picked this other book and I hope that it helps. Will keep you posted.
Special mention goes to Steven Radelet's The Great Surge. Chris Blattman has a great review on his website.
This post was inspired by C. A. DuBois' video: Big Books I can't wait to read post-student hood. Let us continue the conversation below by letting me know which  Economics/Business/Finance books you are keen to read or are currently reading in 2016. Happy Reading!